My good friend Tao of Tao Tea Leaf, has been eagerly pursuing the creation of Toronto's own Tea Festival. After a lot of research its happening~
All the information is at the website (click the logo above). It will be February 2nd 2013 at the Toronto Reference Library's Appel Salon (2nd floor). The day will consists of speakers, demos and of course all of the exhibitors. Shop for all your favourite teawares, teas, and related products – this is the perfect opportunity to shop for your Valentine (hint hint).
Together with help of the team that consists of sponsors and members of the Tea Guild of Canada, this is sure to be an event you DON'T want to miss. Best part is that if you sign up before the new year you save $5 off your ticket! Great Christmas gift to give to your love ones who also love tea. Get one for your self you know you deserve it, see you all there!
Here are the speakers that we have so far!
Michelle Pierce Hamilton is a Nutritionist, Certified Tea Sommelier, and Healing Arts Practitioner/Teacher. These combined philosophies and disciplines are the spirit behind "beTeas", Michelle's unique online tea store where exceptional teas and tea experiences now come alive in London, Ontario.
Michelle also teaches the Canadian Tea Sommelier Certification program now offered at Fanshawe College in conjunction with the Tea Association of Canada. A long-time industry professional in project management, Michelle also continues to work part-time as a Project Management Consultant and Educator for London Health Sciences Centre (LHSC).
Passionate about tea and health, Michelle believes tea is the world's healthiest beverage and that it provides doorway to healthier diet and lifestyle.
Gillian Niblett – As founder of "Tea At The White House", a successful tea room and tea shop in Waterdown, Ontario and current owner of "Niblett and Wiggins – Purveyors of High Tea" in Oakville, Ontario, Gillian Niblett has an extensive background in the world of tea
Gillian is a qualified Tea Specialist, certified by the Specialty Tea Institute of the USA, and an accomplished speaker often called upon to share her expertise about tea at corporate events and educational seminars.
Gillian is looking forward to attending the Toronto Tea Festival where she will share her knowledge of tea gleaned through her education, her business experience, and her travels to the tea gardens of India and China.
Tao Wu – A Certified Canadian Tea Sommelier, is the creator and founder of the Toronto Tea Festival.Tao Wu is a second-generation tea exporter.Raised in the Wu Yi Shan area of Fujian, China, a region known for its oolong and black teas, Tao uses his background and experience to continue the rich history of Chinese tea culture.
Founded in 2009 by Tao Wu, Tao Tea Leaf (934 Yonge St.) is an award-winning, full-service tea store located in Toronto's fashionable Yorkville area. Best known for it's extensive loose Chinese tea selection, Tao Tea Leaf also offers a variety of loose teas from Japan, India, South America and Africa, as well as an extensive line of USDA-certified organic loose teas. Tao Tea Leaf hosts regular tea workshops for beginners and experienced tea drinkers, conduct traditional Chinese style tea ceremonies and offer an Annual Tea Tour to China.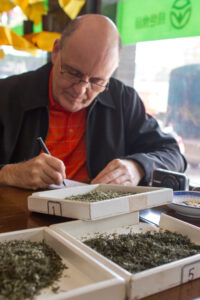 Bill Kamula – Tea Sommelier professor, Created the tea appreciation certificate at George Brown College, Tea Guild Co-Chair/George Brown College Tea Sommelier program instructor.
**Speaker information directly sourced from Festival website November 28th, 2012.**